I was kindly given by Philips their New VisaPure electric cleansing brush to test and review for them.
As you know I have already reviewed the Clarisonic, so I am going to write this review as if I haven't, for 2 reasons.
1, I was supposed to have got this before receiving the Clarisonic and so my review would have been just on the VisaPure.
2. I feel the VisaPure review should just reflect my opinion on this brush.
I will however, for those who wish to know any differences on the two brushes do a separate post on the comparisons.
The VisaPure Experience
Philips knows that cleansing is the most important part of every women's skincare routine. With the VisaPure, women can now take their cleansing routine to the next level, providing a gentle, easy-to-use electronic skin cleansing device that massages the skin to remove make-up, dirt and impurities, which is 10 x more effective than manual cleansing.
VisaPure is fully waterproof enabling it to be used in the shower. It features a unique "Dual Motion " technology ( vibration and rotating ) creating a comfortable massaging effect to stimulate micro-circulation beneath the skin's surface, renewing skin to bring out its natural radiance.
Revitalising the face and decolletage just takes 1min each, easily fitting into the every woman's daily routine alongside their existing products. The added benefit of using the device is that it optimise the skin preparation to absorb other products ( i.e Serums and Creams ) much more effectively, reinforcing their beneficial effects and helping the skin to look healthier and more radiant.
My VisaPure Experience
The VisaPure has definitely been designed with women in mind. My first impressions of the brush was that it looks very feminine stylish and almost sexual, in the sense it remains of something you would have in your sex drawer. However, I do love the design and it looks fab on the dressing table or in the bathroom.
It is also very light weight and could easily been taken with your on travels ( I will certainly be packing this in my hospital bag for when I go in to have my baby ).
The brush comes with two brushes to start you off, a normal brush head and a sensitive brush head. You can also buy an exfoliating brush head separately. The price of the brush heads are really competitive from just £7.99! As like a most electric devices with brush heads ( i.e toothbrush and other electric skin cleansers ) brushes should be changed every 3-4 months.
I've been using the normal brush head on this device and it is very soft ( think of a how a baby brush feels like ). I have used this now for 2 weeks and the brush feels amazing on the skin. On my opinion alittle on the small side but than it fits with size and style of the device. I also found the device a little awkward to hold at first but after a few days of using it, I got the feel of the device. I have used both settings - the everyday "Gentle Cleansing" and the 1-2 times a week " Deep Cleansing " ( which you could use the exfoliating brush head for too ). Both feel great and leave your skin amazing soft, smooth and radiant.
There is also a Skin Zone Timer on the brush which indicates when it is time to move on to the next area, which ensure the face and decolletage are cleansed thoroughly and evenly.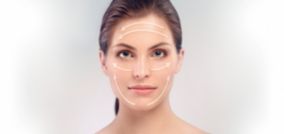 What I was surprised about, was it only took 6 hours to charge up, meaning I could use this the next morning of receiving it. The stand is the charger, but you can unplug the cord so that the stand can sit in the bathroom when the device is fully charged. The device when charge has 30mins of use, which gives you a whole months use before charging up again, which in turn again is fab if your wanting to take this on holiday.
You also don't need as much cleanser as you would have used manually. A small blob just in the middle seems to be enough to cleanse the whole face. Since using an electric skin cleansing device, I have noticed my skin is less prone to blemish or breakouts, my T-Zone is less oily and the skin is amazing smooth, radiant and even skin toned. You will also notice your serums, oils and creams go in much easier and their results are more effective too.
The price is very competitive too at £150 and available though
Boots.com
or instore. I would definitely recommend using an electric skin cleansing device to anyone who wants to supercharge their cleansing routine and skincare routine.
For more information on Philips VisaPure you can visit their
Facebook page
, or
www.philips.co.uk